(Last updated 7/6/2022)
You've probably been Googling the heck out of Amy Porterfield's flagship program Digital Course Academy (DCA). 
I don't blame you. It's a huge investment, and you have a lot of questions. 
As a 2019 DCA alumni and proud partner of DCA, I'm here to share with you all of the facts about the program so you can see if it's right for you. 
The Ultimate Digital Course Academy Review (Your All-In-One Resource) 
Below are all of the important details of Digital Course Academy, and links to where you can find the most helpful information. 
What is Digital Course Academy? 
Digital Course Academy helps online business owners and entrepreneurs turn their knowledge into a digital course that generates consistent revenue through live and evergreen webinar launches.
The program offers a step-by-step strategy for the entire course creation and promotion journey — from figuring out your audience, to course creation, to launching with online webinars.
Amy Porterfield created Digital Course Academy after creating and launching 8 digital courses over the years that have made her millions of dollars ($9 million in 2019 alone). 
Her teaching style is personable and step-by-step, breaking down big, scary concepts (like course launches) into manageable bites that are easy to follow. 
What makes Digital Course Academy different?
There are so many courses out there on how to create and sell an online course.
You never know quite who to trust to take you on your course creation journey. 
So here's a breakdown of what makes Digital Course Academy different from all of the other programs out there, based on my personal experience taking the course.
Digital Course Academy teaches you how to both create and launch your course. 
Most courses today teach you either how to create your online course or launch it. 
In the past, Amy Porterfield had two courses: Webinars that Convert and Courses That Convert, both of which helped you launch and create your course (separately).  
With DCA, she's combined both of those courses into one.
So you're not getting just course creation information or just course launch strategies — you're getting both in an all-in-one program. 
 DCA is a signature course that basically takes you from "I have no idea what to teach on" to "I have a course and I know how to launch it with a webinar over and over."
You're completely taken care of from start to finish.
Amy wouldn't have the audience or track record she does without serving her people first. As a course content proofreader, I've seen a lot of courses, and one thing I always find missing is the face of the instructor. 
Unfortunately, courses have become another quick way to make passive income, and it's all too easy to set it aside (and dismiss your students) after it starts bringing in consistent income for you.
Not with Amy. 
She's the kind of course creator who shows up for her students weekly to make sure they're constantly motivated, taken care of, and doing the work.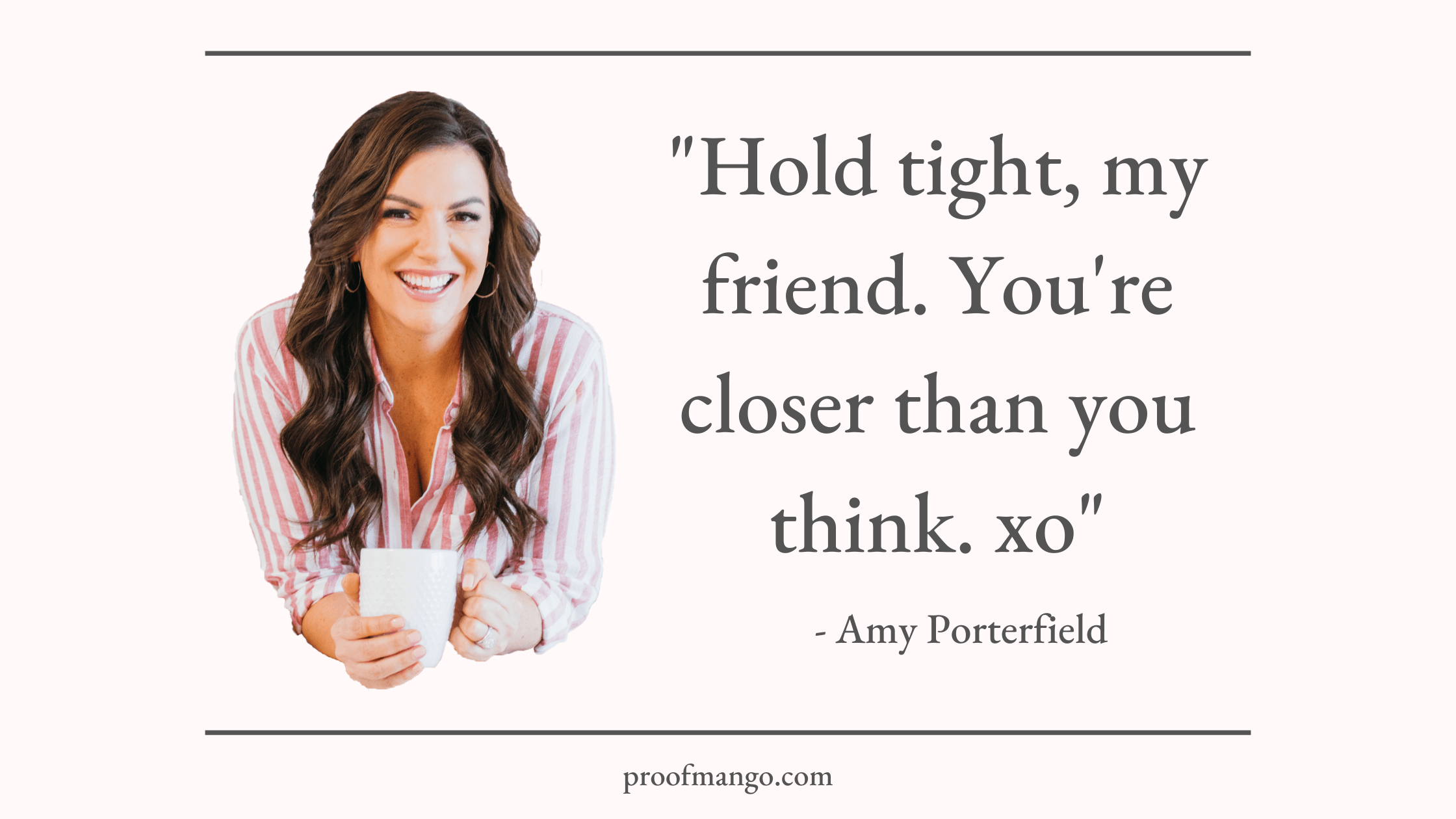 For example, in both 2020 and 2021, Amy went live in the Digital Course Academy Facebook group 4 times a week to make sure all her students' questions were answered.
The tech tutorials are superb.
The tech tutorials inside of DCA are done by one of Amy's resident tech gurus.
She has a portal with tech tutorials inside of DCA that helps you make sure all of the moving pieces are in the right place to sync up your course platform with your email platform and with your webinar platform.
I used her tech library to connect my webinar platform (Demio) to ConvertKit with Zapier.
If that makes your head spin, that\'s okay. The point is, the tech tutorials WORK to help you put it all together.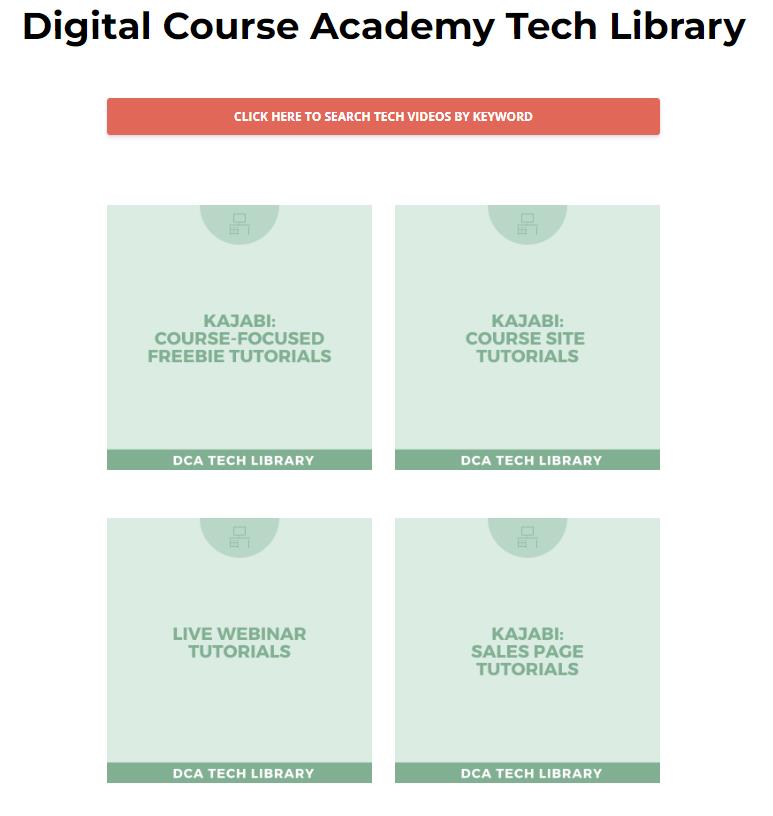 The community is awesome.
They are warm, welcoming, and full of advice. Everyone seems to band together like old friends, and I've never had a question or comment go unanswered.
Amy also offers accountability pods when you join. These are small groups of 2-3 people that you can connect with so you have accountability partners and support throughout your journey. 
There's a resource for everything in DCA. 
Have questions you can't seem to find answers to? There's an entire Q&A Vault inside DCA for every single module with questions and answers.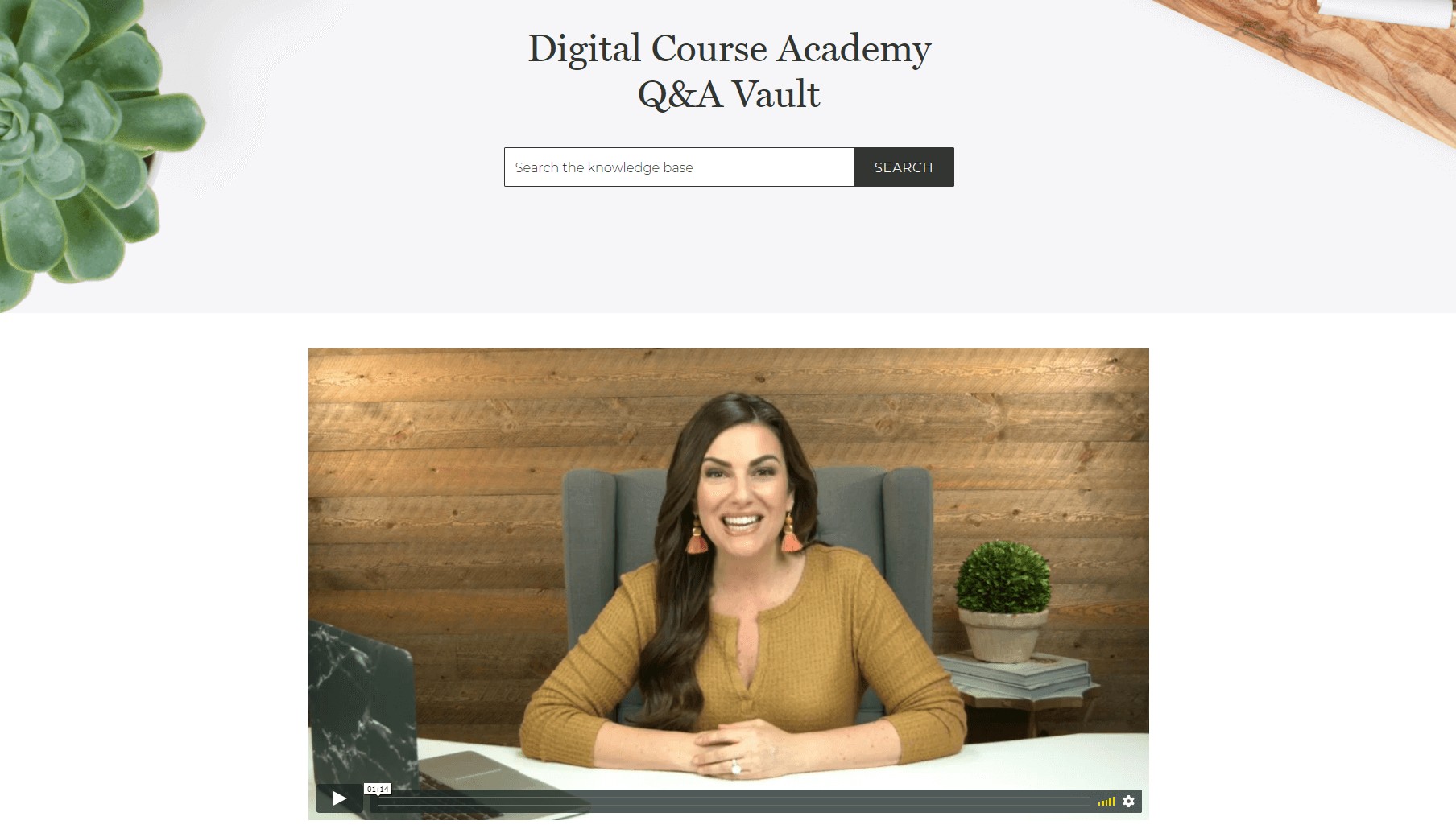 Stuck on how to price your course or what to name it? There's a resource for that.
Not sure how to set up your course in your online platform? There's a resource for that. Amy has an entire tech library with tutorials on how to use Kajabi to host your course material. 
If Amy tells you to do anything inside DCA, she gives you adequate resources to get it done. 
This is NOT something all courses do, and it's what separates DCA from the pack. 
You're learning from a highly successful course creator and marketer.
Amy's made nearly 9 million dollars in one year from the courses she's launched, and having followed her for the last 5 years, I can attest that she doesn't leave anything out. 
Unlike a lot of people out there creating courses on courses, you know you're getting a behind-the-scenes look into every aspect of how Amy has built her online course business: from creating drool-worthy content to prime her future students, to launching evergreen funnels to sell her course over and over. 
Amy teaches it all, and she doesn't leave anything out. 
Sometimes when you want to create something wonderful, you have to look at what the people who have done it are doing, and that's what Amy does in Digital Course Academy. 
Digital Course Academy is closed for enrollment until September 2023. Join the waitlist! >>
What comes inside Digital Course Academy?
At a high level, Digital Course Academy comes with 7 implementation modules, a step-by-step launch plan, and bonuses that help you take your email marketing, social media, and sales page strategies to the next level.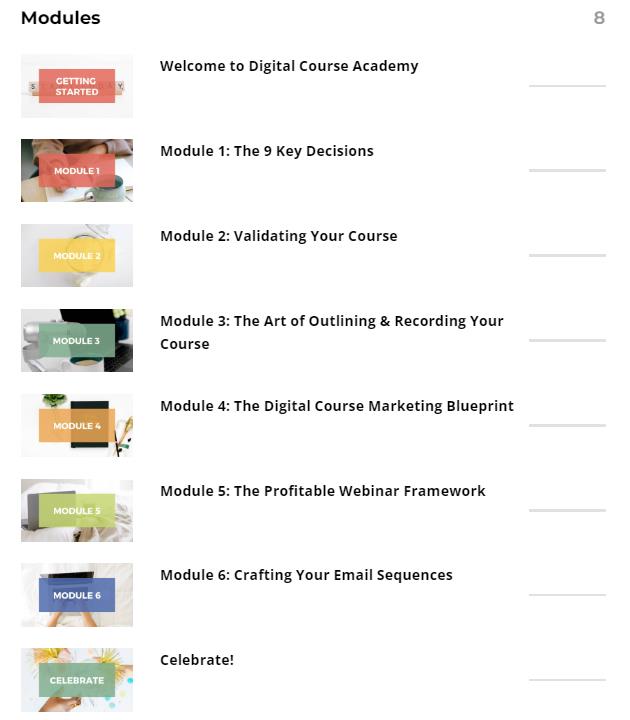 At a high level, here's the breakdown of what comes inside Digital Course Academy: 
6 Implementation Modules showing students literally EVERYTHING they need to do to turn their expertise into a profitable digital course that their audience truly wants.
A complete, step-by-step launch plan showing them how to create and deliver a high-converting Masterclass presentation that ethically (and authentically) enrolls dozens, if not hundreds of students, every time they deliver it.
The Webinar Fill-Up Formula to make sure they never deliver to an empty room again, and instead get a packed house full of perfectly-targeted, "ready to buy" prospects.
Next-level email marketing, sales page, and social media strategies to amplify their results and get up to 3x the enrollments. 
More specifically, here are all of the modules inside Digital Course Academy 2020, and what each one of them offers. 
Module 1: The 9 Key Decisions
In the first module of Digital Course Academy, Amy teaches the following: 
How to choose your course topic
How to fine-tune your Ideal Client Avatar (ICA) 
How to select your digital course type
How to create your course transformation statement
How to craft your stellar course name
How to price your digital course
How to choose your digital course content creation strategy
How to select your tech setup
How to schedule your launch dates
Module 2: Validating Your Digital Course
In the second module, Amy teaches the following: 
The course calls validation strategy
Social validation strategies
The first-ten strategy
Module 3: The Art of Outlining & Recording Your Course
In this module, Amy teaches the following: 
How to outline your course 
Refining your course outline
The PDF support strategy
Choosing your recording strategy
The art of teaching inside of a digital course
Recording tips and tricks
Module 4: The Digital Course Marketing Blueprint
In this module, Amy teaches the following: 
Crafting your irresistible launch offer
Setting your launch revenue goals
The digital course sales page blueprint
A behind-the-scenes tour of a high-converting sales page
How to create a 30-day pre-launch runway
Module 5: The Profitable Webinar Framework
In this module, Amy teaches the following: 
The Profitable Webinar Framework
The profitable webinar slide-by-slide walk-through
The golden rules for delivering a profitable webinar
How to map out your live webinars
The 5 key elements of a high-converting webinar registration page
The 7 strategies to boost webinar signups
Module 6: Crafting Your Email Sequences
In this module, Amy teaches the following: 
How to craft your webinar invite emails
How to craft your pre-webinar emails
How to craft your webinar replay emails
How to craft your post-webinar emails
How to craft your post-webinar sales booster emails
How to craft your new customer onboarding emails
The live launch wrap-up
When does Digital Course Academy open?
Digital Course Academy opens at least once a year.
It will re-open in September 2023.
Typically, Amy releases a TON of great free training before she launches, which will help you regardless of whether you enroll.
You'll want to get in on her free stuff because it's ALWAYS good!
Digital Course Academy is Closed for Enrollment until September 2023. Join the Waitlist! >>
When does Digital Course Academy start?
The start date for Digital Course Academy changes every year, and in 2023, DCA will likely begin sometime in September.
Amy doesn't make her students wait more than a week to dig into the course content after they purchase.
As of January 2023, her course has 6 modules, with one being released each week.
So you've got 6 weeks inside of the DCA Facebook group you get access to after enrollment, where you can form an accountability pod and see Amy live in the group about a few times per week (it changes each year).
Once the 6 weeks are over, the Facebook group gets archived, but you'll still have access to the entire library of training materials in the DCA member portal, so you can revisit any assets you need to as you work through the course. 
And if you need more support after the 6 weeks are over, you can always join her membership, Momentum.
The start date can change each year, so be sure to check this post for updates, or feel free to email me at hello@proofmango.com if you have any questions not answered here!
How Much Does Digital Course Academy cost? 
The price of Digital Course Academy in 2022 was $1997. You can also pay in monthly installments, but the amount is subject to change each year. Keep checking back here for updates!
Does Digital Course Academy have a refund policy?
I have a really good feeling you'll enjoy DCA (as I have!), but if for any reason it's not for you, as of July 2022, there's a 14-day money-back guarantee if you're able to demonstrate you've put in effort to complete the course. The refund period usually ends about two weeks after purchase, but I'll update this post as I know more information.
So you're not stuck in a refund situation, here's what you should know before you join: 
You won't get results in a week — it takes up to 90 days to implement everything Amy teaches from start to finish, and she's intentionally designed it that way. It's meaningful course creation at its best.
You'll have unlimited access to DCA forever. She launches it year after year, and you get the updates to your member portal each time she does!
If you do the work and you don't see results, Amy's team will refund your money, but you have to show that you put in the work. See her refund policy here.
Who is Digital Course Academy for?  
Digital Course Academy is a great fit for: 
People who have an idea for an online course, but they're eager to jump in and do the work.
People who are currently doing one-on-one work (coaching, consulting, service-based businesses) and want to stop trading dollars for hours. 
People who already have a digital course, but are seeing lackluster, frustrating results.
People who can take their personal experience achieving a certain result and teach it to others.
People who got results for their clients and can now take the process they've used to teach students how to get those same results. 
People who have seen results from a system, technique, or tool, and now teaches that system they know so well. They have used this system to get results in either their 9 to 5 job, business, personal life, or with their clients. 
It doesn't matter what niche or business you're in — if you've got knowledge you can teach to help someone produce a result, you've got a course idea to bring to life in DCA.
How will I know if I'm ready for DCA? 
Some course creators feel they need to have a HUGE email list or a big following to be successful in a program like Digital Course Academy.
Others feel like the tech will stump them, or they "don't know marketing" and their course will flop. 
If some of these feelings are yours, I urge you to question them. 
We are all capable of great success if we really want it. There's truly nothing that holds us back more than ourselves.
Let's start by tackling that first issue of needing a big list or following.
You don't need a huge email list or following to see success in DCA. 
There's no doubt that a large email list helps, but DCA is perfect if you've got at least 250-300 subscribers on your list. 
And if your list is smaller than that, Amy's got you covered.
DCA has an updated section just for you, which has 3 bonus lessons with tips and strategies on growing your email list.
The good news is that Amy starts you at the very beginning — she gives you the steps for setting up your pre-launch runway before you start creating and marketing your course.
And these pre-launch steps help you create irresistible free content for your ideal student, so that you're building awareness about your course before you create and launch it. 
She gives you the steps to grow your email list while you're creating your online course, so you have a list of ideal students who are ready to buy by the time you launch.  
It's okay if you're tech-challenged.
Inside DCA, there's a wealth of training on the tech aspects of creating a course, just waiting to be tapped. 
Amy has an entire Tech Library filled with tutorials on how to:
Organize your assets and documents
Upload your PDFs to Amazon S3 and WordPress
Implement your founding members pre-sell strategy
Create a course-focused freebie tutorial in Kajabi
Use Kajabi for your email marketing
Conduct live webinars
Use Kajabi to create your sales page
Use ConvertKit for email marketing
And these aren't all of them! Just know that if you're tech-challenged, Amy's got you covered. 
It's okay if you don't "get" marketing. 
Amy has an entire podcast dedicated to making online marketing "easy".
If you're still not sure about DCA, give one of her free podcasts a listen here. 
She has an action-focused teaching style that you won't be able to get enough of. 
That being said, in DCA, she does the same thing — she breaks online marketing down step-by-step so you're not left wondering if you should be focusing on funnels, Facebook ads, YouTube, etc. 
In DCA, Amy gives you two easy methods for building your email list and filling your webinars: list-building and Facebook ads. 
She doesn't teach you every marketing trick in the book, only the ones that she has seen success with, which means you're learning about the only ones that count. 
All this is to say, you know you're ready for DCA if you're fired up about getting results for the people you want to teach. 
If you have the will and the motivation to persist in your mission to create an online course that changes lives and gives you financial freedom, you're ready to dive into DCA.
That being said, if you see yourself in any of these situations, DCA is for you: 
You are an established expert. You have an audience and a small email list, and you've been getting some traction with blogging, podcasting, or making videos. But you're not generating enough revenue to make your online business a full-time gig.
You're someone who has an established business (online or offline), that is already generating revenue, but you're looking to add a new income stream to the mix. You already have an email list, but you're eager to take your knowledge and apply it to a digital course model.
You've played the freelance game long enough. You've had clients and plenty of opportunities, but you've reached the point of highest tension, bordering burnout. You know a digital course is the answer, you just don't know how to get started. 
You've already created a course, but you're not sure you did it right. You're not sure how to market it, and you're looking for a framework to make it all work. 
Who is NOT right for Digital Course Academy?
If you're starting out at ground zero with no following and no email list, I'd recommend starting with Amy's smaller course, List Builder's Society. 
While there are a few bonus lessons on list-building in DCA, it's not the focus. But it does teach you how to nurture and engage the email list you already have, so your subscribers are ready to buy from you by the time you're ready to launch your course.
DCA is also not for people who want to get rich quickly with a course. It's not for silver-bullet, quick-passive-income seekers. 
What Amy teaches is focus, dedication, and persistence. She teaches that you can build and launch your first online course in 90 days.
What type of people take DCA, and what results can I expect? 
DCA has helped so many people put their know-how into an online course, from all walks of life. 
The program doesn't guarantee results, but it has helped a lot of people launch their course successfully multiple times over. Here's a quick video of all of the inspirational Digital Course Academy testimonials that I absolutely love, and how you can sort to find the best testimonials to match your own situation. 
If you're interested, I encourage you to check out some of the success stories on her waitlist page, from past DCA students. 
Can I get one-on-one support in DCA? 
Amy goes live in the DCA Facebook group every week when you enroll. The number of times she goes live changes each time she launches, but she's always there to support you. 
Not to mention, the entire group of DCA-ers is one you can lean on throughout the entire journey — Amy's team and fanbase are both extremely supportive and encouraging. 
What DCA Bonuses Are Available?
Each year, Amy offers exclusive bonuses to new students who buy DCA. In 2021, she offered the following bonuses:
Bonus 1: 10 Weeks of Live Q&A Sessions with Amy (in a Private Facebook Group), Amy will be LIVE in the private FB group Mon-Thur for 10 weeks answering questions and troubleshooting. (A $1,297 value)
Bonus 2: Ticket to The Entrepreneur Experience: Course Creators Edition, a 2-day virtual event in December 2021 dedicated to supporting digital course creators with the latest strategies, endless inspiration, powerhouse speakers, and access to an ambitious and supportive community of fellow go-getters. (A $297 value)
Bonus 3: "How to Stay Alive When Going LIVE" with Jam Gamble, a DCA exclusive LIVE training all about feeling more comfortable and confident when speaking live, inspiring the world with your ideas, and communicating more meaningfully with your audience. Overcome the mental and emotional blocks that keep online entrepreneurs frozen in a face off with the "Go Live" button. (A $297 value)
Exclusive "Pay in Full" Bonus, How to Use Facebook and Instagram Ads to Fill Up Your Webinars. This bonus will simplify Facebook and Instagram ads so you feel confident experimenting with this powerful platform and knowing you're following a proven path to ROI. I'll show you how to leverage the exact, advertising strategy I've used to profitably fill up my webinar room with perfectly-targeted audiences. (A $997 value)
These don't include the surprise "show up to the webinar live" and "mid-cart" bonuses Amy offers throughout her launch.
You'll definitely want to make sure you're signed up for her waitlist so you can stay up to date on all future bonuses.
Your Next Steps
To date (July 2022), that is all of the information I have about Amy's flagship program, Digital Course Academy. 
I hope this post has helped you understand what's involved, and answer any burning questions you still had about the course. 
I know Digital Course Academy won't be right for everyone, but if the details resonated with you, it's probably because something inside of you that's longing to be shared. There's truly nothing like sharing your knowledge with someone else for the greater good of the world as a whole.
If you feel you'd like to teach something online, learn from the best, and join the waitlist for Digital Course Academy. 
And if you've got questions, add them in the comments! I always respond 🙂
– Monique