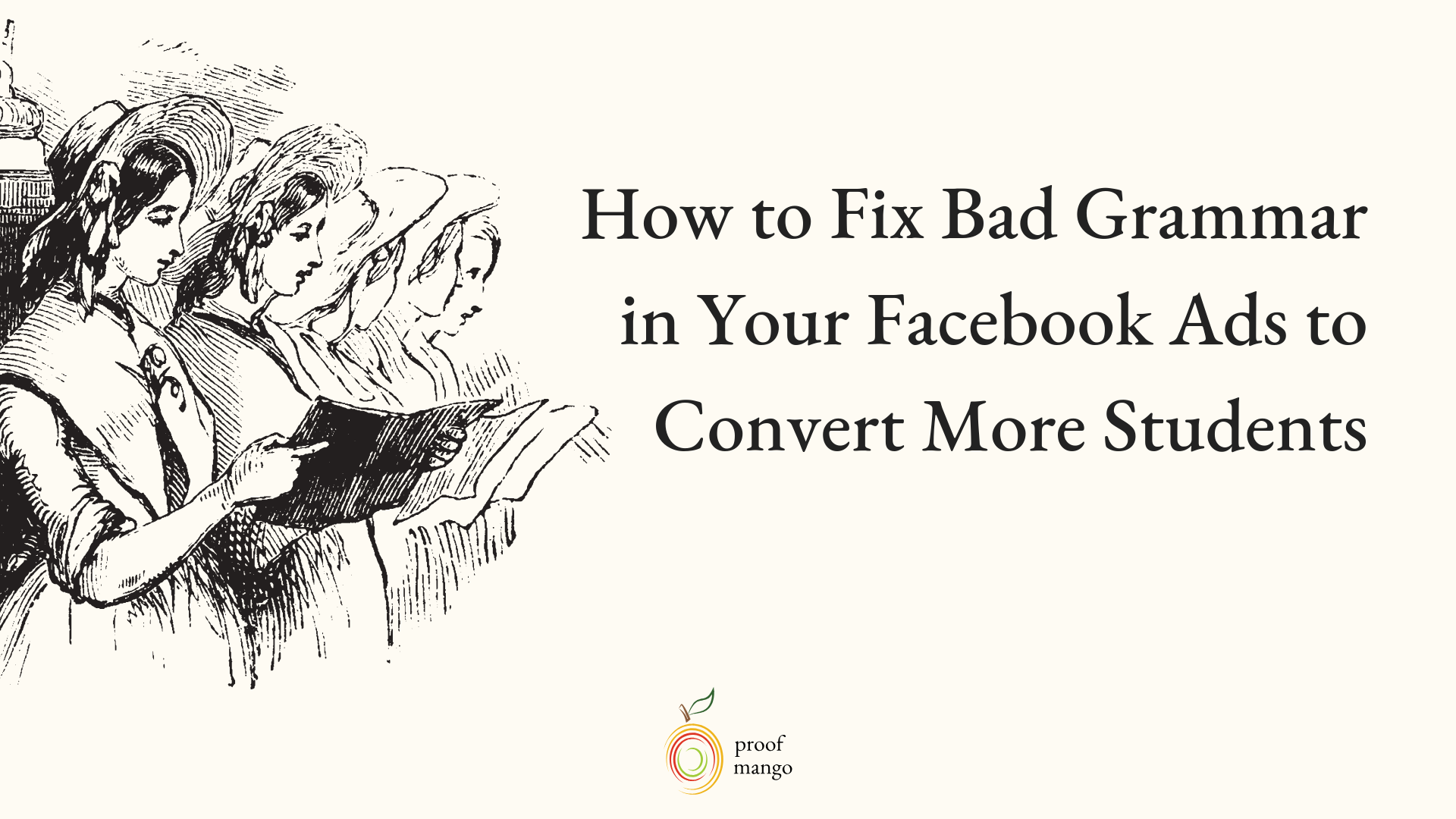 "If u need help 4 ur business plz click on this ad 4 info on increasin ur business."
Okay, we might be exaggerating a bit with this sentence.
But when you misspell words in your Facebook Ads, the reaction is the same across the board – ugh.
There's no need to reiterate how much of your credibility, not to mention your ad spend, gets tossed out the window when your ads are poorly written.
In a world where first impressions are everything, clear, error-free writing is the easiest way to make a good one.
As online course creators, any marketing material you put out there should reflect the same level of authority you bring to your online course.
You're allowed few mistakes as an online educator, but almost none when it comes to grammar and spelling.
Today, we're talking Facebook ads. We're talking about how bad grammar can negatively affect the ads you post, and what you can do to fix them before they drive away potential students who need your help.
The Juice on Bad Grammar in Your Facebook Ads
Facebook is big on user experience. It's no surprise that they value users over advertisers.
They analyze every ad submitted, and they will not approve advertisements from businesses with poor grammar.
Here's a snapshot straight from their ad policy.

Additionally, Facebook factors in engagement when deciding how many people to show your ad to.
If there are grammar errors in your Facebook ad, engagement won't be very high, which will tell Facebook the ad is of low quality.
This matters because low ad quality can drive up the cost of your Facebook ads.
So at the end of the day, bad grammar in your Facebook ad gets you:
Ads that don't get approved by Facebook
A cost increase to get your ad seen by the right people
And if that's what we want, then let's continue submitting Facebook ads for approval that haven't been proofread.
But if not, let's look at how the ad copy on Facebook is structured, so we can limit as many errors as possible.
What Makes Great Facebook Ad Copy? 
If your ad has the right balance of words, in the right order, with engaging, personal copy that has no grammar errors to confuse or mislead, you have the recipe for great Facebook ad copy.
So as a course creator who is not likely a marketing expert, how do you make sure all this jives? There are a few things to remember when writing your Facebook ad copy.
Understand Where to Put Your Facebook Ad Text
On Facebook, there are three components of your ad that you want to pay attention to when inserting ad copy:
Your ad text
Your headline
Your link description
Here's an example: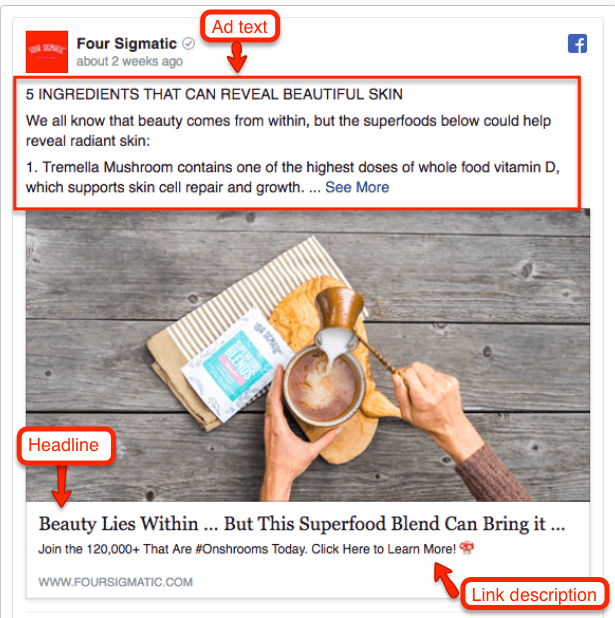 Original ad screenshot from AdEspresso
When you understand where text on a Facebook ad goes, you see how much space you have to work with. And you can figure out the best wording for each area.
Clearly, you want all of this ad copy to be free of grammar errors.
But you know as well as I do that ad performance does not depend on good grammar alone.
You have to write in a way that engages. And also in a way that displays clearly in the Facebook ad frame.
And that means restricting word counts and cutting words. Add too much text and it can decrease your overall reach.
Keep Your Facebook Ad Text Short and Personal
If your headline and link description are within Facebook's suggested character counts, your message will have a much better chance of landing.
Take a look at what happens when your headline or link description go beyond the suggested character count.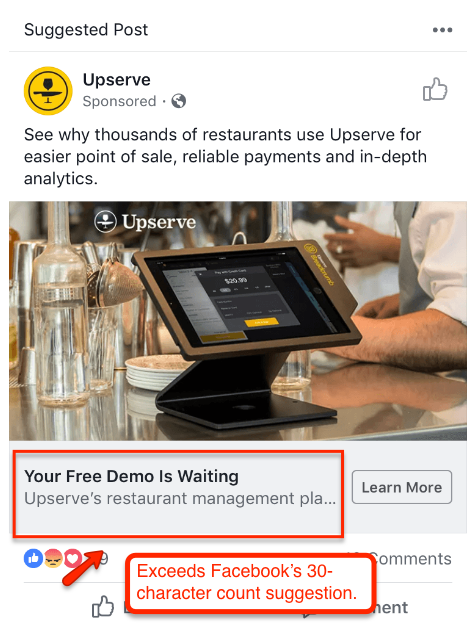 Image from AdEspresso
It's not the best use of your spend to advertise something that people can't immediately understand. Users aren't typically forgiving when it comes to a bad ad.
For reference, here are the suggested character counts to remember so your Facebook ad copy isn't cut off.
Headline character count suggestion: 25
Link description character count suggestion: 30
Try and keep your Facebook ad copy short and to the point. Below is an example of an ad AdEspresso praised for its short headline, and its even better image.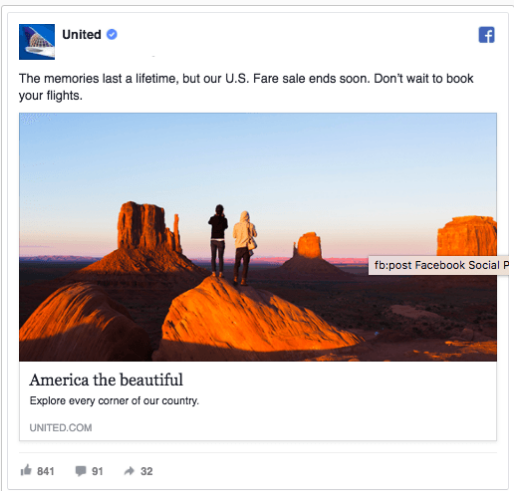 Image from AdEspresso
How to Fix Bad Grammar in Your Facebook Ads
There are a few ways you can fix your Facebook ad copy for typos to prevent potential students from scrolling past your ad because they can't understand it.
They all involve patience – rushed Facebook ad creation results in sloppy ads and poor results. Take a page from our Facebook ad editing process and use it to show potential students how authoritative you really are.
#1 Write the ad copy elsewhere first
Use Google Drive or Grammarly to write your ad copy somewhere else first. It'll make it easier to proofread.
Write out the headline text, ad text, and link description. That way you can see everything laid out.
Next, read your Facebook ad copy five times over.
The first 1-2 times, skim it the way a user would for errors. The third time, read it slowly out loud, like a robot. Then read it again two more times.
You'll be surprised how many errors you missed the fourth or even fifth time around!
#2 Eliminate unnecessary words
Long, wordy phrases don't have a place in advertising.
Don't use 25 words to say something when 10 will work fine. Below is a short snippet of one-word sales phrases that should help reduce your word count.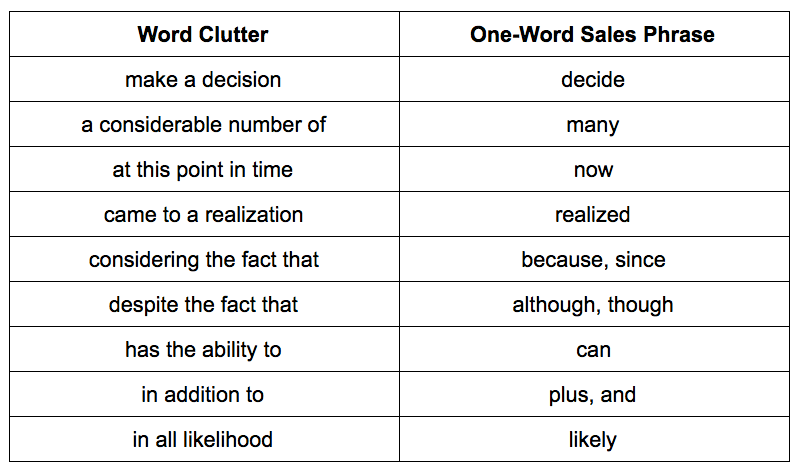 #3 Check for correct apostrophe usage
You only need to add apostrophes to show possession or to indicate missing numbers or letters.
For example, to show possession: "Our tool helps you manage your system's data."
And to show missing words or letters: "You'll have access to the course for 24 hours to try it out."
Review each apostrophe in your Facebook ad copy to make sure it's used correctly.
#4 Is your capitalization consistent and correct?
Try not to capitalize things that don't need to capitalized. Below, the creator of this Facebook ad capitalized "Cell" and "Body", but I can't understand the reason for it.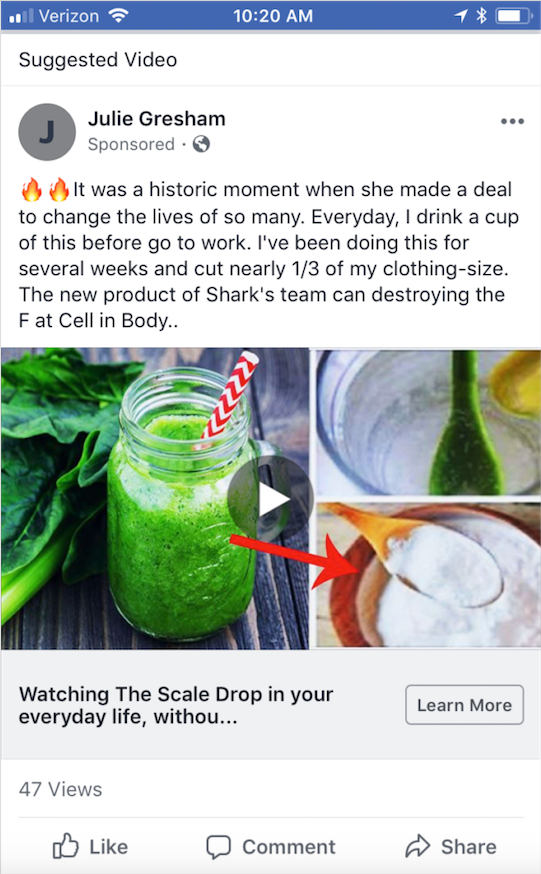 Image from AdEspresso
Make sure you're capitalizing things like:
Words at the beginning of sentences or quotes

Names (especially the name of your course)

Titles of movies or books

Days, months, or holidays

Proper nouns (cities, countries, companies, religions, nationalities, languages, etc.)
And if you decide to capitalize something not in this list, for whatever reason, make sure it's capitalized consistently.
#5 Check for grammar errors everyone notices
You don't have to be a grammar nazi to spot a typo.
Even people who don't care about grammar will catch errors in words like: your, you're, their, they're, and there.
Check those words in your ad, as well as popular homophones (words that sound the same but mean different things), like weather vs. whether.
A slow proofread usually catches these things, but question every word you're unsure of.
The time you take up front to make sure your ad is readable and clear will benefit you in the long run.
#6 Is the meaning clear?
Ask yourself if your 5-year-old cousin or your 85-year-old grandmother would understand what you're selling in your ad. Or, like Tanner Larsson said at Social Media Marketing World this year, pretend your target customer is Homer Simpson.
Would he understand what you're trying to sell? Make it super clear and easy for someone to understand what you're selling, and what you want them to do with your ad.
#7 Is the voice active?
Make sure the voice in your Facebook ads is active. Remember, the road was not crossed by the chicken – the chicken crossed the road. The first part of that sentence is passive voice, and the latter part is active.
#8 Make sure important text on the ad can be clearly seen
Your Facebook ads can go beyond the suggested character counts and still be great – just make sure your audience understands what you're selling in the text they can see.
For example, in the ad below, Dash This went beyond the character count suggestion in the link description, but AdEspresso still gave this ad a thumbs up because it's engaging and provides clear intent.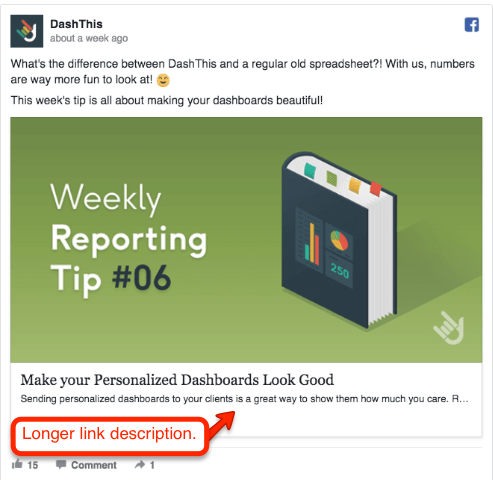 Original Screenshot from AdEspresso
Course Creator Mistakes: Not Fully Appreciating Good Grammar in Facebook Ads
Good grammar is about more than just typos – it's about structuring your content in a way that conveys meaning and understanding.
Nowhere is this more important than in an advertisement – especially on Facebook.
As course creators, you have to sell people on your authority. 
And with every grammar error, that authority gets chipped away, bit by bit.
Survey Monkey did a study in 2017 and found that 83% of people with a household income of $75k+ are less likely to buy a product advertised with grammar mistakes.
This is painful if you're selling a high-ticket course that ranges from $997-$1,997, because someone who makes $75k+ can likely afford it, and you don't want to lose them because of a typo.
Bottom line: don't sell yourself short by not giving yourself time to create a high-quality Facebook ad with good copy that engages and makes sense.
Maybe you're a little lax with grammar errors on your blog or in your online course, but in your ads, money is involved – don't throw away your spend because you don't want to take a few extra minutes to proofread.
Good grammar keeps people reading, and it doesn't hurt conversions.
You Know How to Fix Your Facebook Ad Grammar – Now What? 
Now that you know how to fix your Facebook ad grammar, are you confident it's error-free?
If not, I get it. You're a course creator – not an English major, right?
As a content editor for online courses, I often get asked to proofread Facebook ad copy, since it's a big part of a course creator's marketing strategy.
If keeping your Facebook ad copy clear, engaging, and error-free is definitely not your forte, get a proofreading quote and we'll see how we can help.
If not, answer me this: is proofreading your ad copy part of your review process before launching your Facebook ads? Have you had success without editing your copy?
Talk soon!
Monique